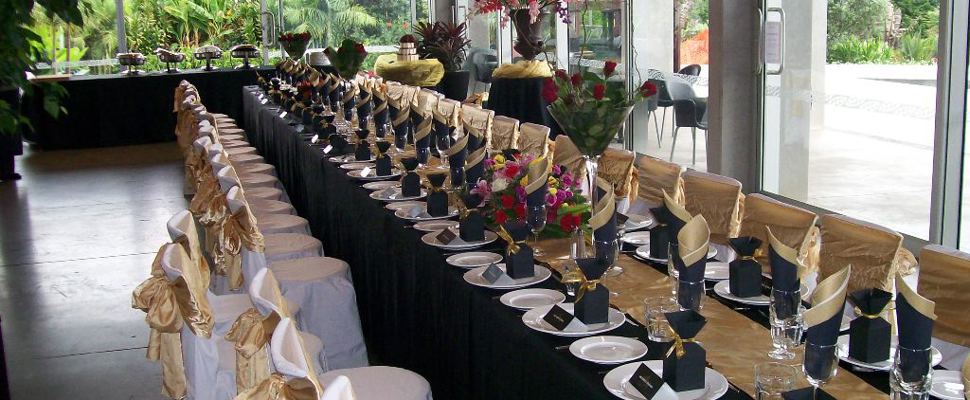 Will the garden look the same on my wedding day?
The Gardens are seasonal. The colour, type and style of plants will change. What you see today, may look different tomorrow.
Will the site be available for my exclusive use?
Auckland Botanic Gardens is a public garden space, no part may be hired exclusively unless specified in the space hire details. Signage is placed at the hired site to inform public of specific event site use.
Can you cater wedding receptions?
Café Miko is the accredited caterer for Auckland Botanic Gardens. They turn their café space into a great backdrop for wedding receptions with beautiful views out on to the Gardens.
Picnic food can be brought into the Gardens.
Can I serve alcohol at my wedding?
You don't need a special licence at a private event where an occasion is celebrated in a hired venue and the guests bring their own alcohol or the host supplies it for free.  A catered function does however require a manager to be on duty for compliance. The hosts are responsible for the behaviour of their attendees.
Can I bring vehicles into the Gardens?
For the safety of our visitors, we do not allow wedding vehicles to be brought into the gardens. Some infrastructure deliveries can be undertaken with agreement with the staff at the Visitor Centre reception.
Car parking is only available in the public car parks on site, it is non-reservable. 
Due to civil disturbances caused by car clubs we request you refrain from using those unable to conform to parking requirements or may create a civil disturbance. The police will be called should staff deem necessary. The organiser is responsible for managing any one relating to the delivery of servicing of their wedding. 
Do you provide tables and chairs etc?
We only provide site hire, but we have a great provider for all your wedding needs, Alcova.
Alcova are our wedding theming and event hire specialists. Available to style, theme & dress your event from seating and stretch tents to venue styling, lighting & entertainment. Alcova will cater to all your event needs, to make your event a success! Alcova have a range of packages to suit your event or can personalise a package to fit your needs.
Can I decorate a wedding site myself?
Auckland Botanic Gardens is committed to the care and preservation of the gardens. You can self-decorate but all fixings and fixtures must be removed, and the garden site left as found. No tacks or screws are to be used to secure decorations to garden structures. Please confer with staff to discuss any materials you plan to bring into the gardens.
I have some elderly and guests with limited mobility?
Consider the size of the gathering and the accessibility needs of your guests. For safety reasons we cannot allow wedding and guest vehicles into the grounds. There are wheelchairs and scooters available to hire and bookings are essential.
Will my wedding be the only event on the day of hire?
The site hirer or the organiser should be aware that other non-related activities may be occurring in or near the booked area during your period of use. It is a public garden so there will be a lot of general visitors enjoying the rest of the garden areas.
Can I bring in confetti?
To ensure venues remain clean for public the use of confetti of any type is not allowed (bubbles are a perfect alternative).
Will staff be working at the gardens on my wedding day?
Auckland Botanic Gardens is a working garden and so the staff may be required to carry out work. Considerations are made to ensure they are not working in booked areas or doing anything that will disaffect your wedding. Sometimes there may be unavoidable maintenance work close by the areas booked. If any unexpected needs arise in event spaces staff will contact the hiree and organise an alternative site.
If I hire the Edible Walled Garden will the building (Logan Campbell) close by be in use?
If you wish to hire the Walled garden the staff will check on the use of the Logan Campbell to assess whether the functions could disaffect each other.
Is there power at the site?
Power is only available in the Glade wedding site. For the other sites you are welcome to bring battery powered systems or small generators, please discuss with our staff.
What do I do with any waste created?
Auckland Botanic Gardens requests you hold waste free events and asks that any excess rubbish is removed from the event site.
When can I get the site ready for my function?
The functions pack in, use and pack out must occur within the hire times specified. The site does not have any storage for equipment pre or post event. Hence all requirements for your function must occur within the booked site time. For ease Alcova are a great choice to manage your wedding infrastructure and take the hassle of managing chairs and tables etc. They will do this in the times allotted.
Where can I take photographs?
You can take your photos anywhere in the grounds as long as the sites haven't been booked for any other activity. There are a variety of backdrops available to capture special memories on your wedding day.  
Fees and bookings
Please refer to the site web pages for up-to-date site fees.
Cleaning and security costs may also apply to some bookings. Staff can advise when enquiring about site hire.
If you wish to hold your date while you are looking into your options, we will hold your booking for 1 month whilst completing the booking process of application, payment and permitting.
Quoted price is subject to change from the enquiry date. Rates will be priced as per the prices at the time of the final booking confirmation.
All bookings are subject to staff approval. For booking queries contact the Botanic Gardens staff (09) 267 1457 ext. 1 or email botanic.gardens@aucklandcouncil.govt.nz 
Any subsequent changes to the activity will require amendment of the permit as conditions are agreed.
Contact
Auckland Botanic Gardens, 102 Hill Road, Manurewa, Auckland
(09) 267 1457 ext. 1
Email: botanic.gardens@aucklandcouncil.govt.nz
N.B If you do not confirm within the 1 month date your site will automatically be released. If you have tentatively held a site but do not wish to proceed, please advise us so we can release the date for other customers.