Harakeke: New Zealand flax
Science gives harakeke one name, Phormium, but Māori have many names for harakeke based on a plant's use and features. Visit the Harakeke Collection and discover some of the beautiful stories of harakeke - if you listen carefully, there are many deep layers of meaning.
The Harakeke Collection has been selected over the centuries by Māori weavers from all over New Zealand. Each variety has been especially chosen for its unique leaf and fibre properties and specific use in weaving. Harakeke is an incredibly important plant for Māori - traditionally it was used to make many important everyday items such as kākahu (garments), kete (kits), taura (rope), whāriki (matting) and rourou (food baskets).
To learn more about, and from, this precious tradition - keep an eye on our events calendar for workshops where you can learn how to harvest and weave harakeke and the protocols that apply. We are also able to provide harakeke material to groups wishing to use traditional harakeke in weaving, for education and research.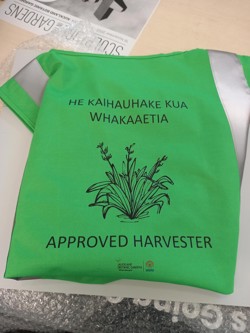 Harakeke harvesting is available to community with consent from our curator. We have tikanga (protocols) that need to be followed in order to keep this precious taonga (treasure) healthy and protected. To be accredited to harvest please attend one of our monthly inductions.
Harakeke harvesting inductions - first Thursday of the month at 2pm
On the first Thursday of each month (except January) you can join our Harakeke harvesting induction with curator Angela Anstis. Meet at 2pm in the Huakaiwaka visitor centre.
The induction is the beginning of the journey to be able to use the harakeke garden. It covers health and safety, the tikanga practised in the garden, how to harvest, and how to use the communication folder at the visitor centre.
Once inducted you can pick up a harakeke harvest jacket (pictured above) when you sign into the visitors centre to show other visitors that you are an official harvester. When finished please return the jacket to the visitors centre and we will know you are offsite thanks. And please remember, no harvesting without permission from our curator.
To book a place call our visitor centre on (09) 267 1457.
To contact our Harakeke Curator Angela pleas email Angela.Anstis@aucklandcouncil.govt.nz.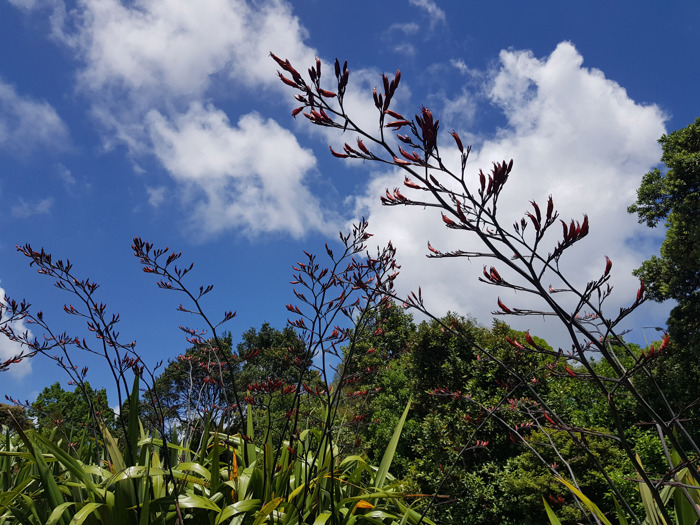 Flowering in December 2022
Learn more about our native collections