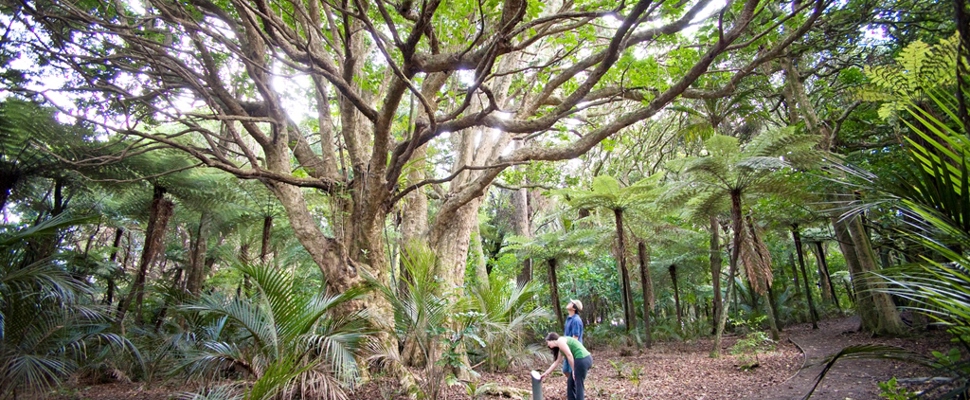 The Auckland Botanic Gardens is located on Hill Road, Manurewa, covering 64 hectares (156 acres) of land, including 10 hectares of native forest. Opening to the public in 1982, the Auckland Botanic Gardens is a young garden by world standards.
The Gardens attract over 1 million visitors each year and is a member of the New Zealand Gardens Trust, an organisation that assesses gardens for the quality of visitor experience and promotes garden visiting. Visit Our History for more information on the growth of the Gardens.
Our vision for the Gardens guides our long term development: A spectacular South Pacific Botanic Garden that is widely recognised for its outstanding plant collections, Auckland regional identity and the interest inspired in the community.
A focus on creating unique gardens and landscapes has resulted in a spectacular garden with a distinctive South Pacific flavour.
Our team are extremely knowledgeable about plants, and are passionate about connecting our visitors to plants and gardens. As horticultural experts, our role is to help people engage with plants and gardens, and to highlight their importance in everyday life. We run regular workshops and drop-in sessions where our staff can give expert advice and tips to our visitors. Keep an eye on our event calendar for upcoming sessions.
Sustainable horticultural principles underpin everything we do. Our aim is to optimise the health of our plants without relying on fungicides or insecticides. We want to establish plants that are self-sustaining, and require minimal intervention.
To achieve this, we run extensive plant trials to identify plants that perform well and remain healthy in Auckland's mild climate, without pesticides. A particular focus is given to the role plants play in environmental enhancement, for example, the introduction of Low Impact Design (LID) systems (now known as Water Sensitive Design) to protect and enhance our waterways.
Auckland Botanic Gardens manager Jack Hobbs talks about 40 years of the gardens.