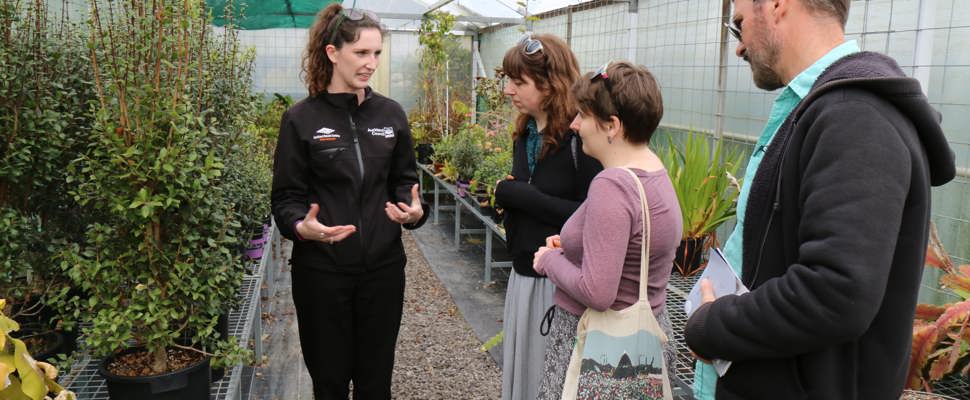 In late September, visitors from Botanic Gardens Conservation International (BCGI) visited the Gardens and were introduced to some of the rare New Zealand's native plants that are being cared for as part of the Gardens conservation work.
The visiting trio, Emily Beech, Megan Barstow and Joachim Gratzfeld, were in the Pacific as part of the BCGI's Global Tree Assessment, a project to catalogue the conversation status of Earth's 60,000 tree species.
Emma Bodley shows Megan Barstow, Emily Beech and Joachim Gratzfeld (L to R) specimens of rata moehau.
The first stop in the tour was the Gardens' nursery, where botanical records and conservation specialist Emma Bodley and curator Bec Stanley introduced specimens of rata moehau, or Bartlett's rata.
Rata moehau is one of the country's most threatened plants and a favourite food of possums. Its natural range is the Far North, but it is restricted in the wild to only three forest remnants near Spirits Bay.
The plants flower about every five years. The last flowering was in 2016 and occurred at the same time in Auckland Botanic Gardens and some 800km further south at the Otari Wilton's Bush in Wellington.
Rata moehau, which can grow to 30m, is one of the 20% of worldwide tree species that are threatened in the wild.
The guests from London were also shown Pimelea eremitica, a plant collected from its refuge on a cliff at Maunganui Bluff, where it is threatened by feral goats (that manage to breach a protective fence).
Pimelea eremitica
Both these species are being held and propagated in the gardens in joint ventures with local iwi with the purpose of being returned to their habitats when the threat of pests is removed.
The last stop in the nursery was to take a peek at Anogramma leptophylla, a beautiful, small threatened fern that was collected from Maungarei/Mt Wellington.
Anogramma leptophylla
The BCGI visitors were also shown around the Threatened Native Plant garden where they were introduced to some of the world's rarest plants Pennantia baylisiana and Tecomanthe speciosa.