Many Botanic Gardens and famous parks across the world are exploring ways of enhancing biodiversity by reducing the amount of mowing they do.
Sometimes this means leaving grass to grow, seed, and flower, and sometimes it means turning lawns into wildflower meadows. Auckland Botanic Gardens is about to experiment with both.
Manager Jack Hobbs says a decision has been made to stop regular mowing of some of the lesser-used areas of lawn across the 64 hectares of Auckland Botanic Gardens.
"The reason for doing this is that it is important for insect biodiversity, bird life, and all the microorganisms that thrive in a natural environment. It is also a way of reducing our carbon footprint."
Areas of lawn that are infrequently visited have been earmarked for low-mow treatment. This means they will only be mowed once or twice a year.
"Some people may not immediately see the aesthetic nature of fine grasses intermingled with flowering perennials. However, others will appreciate this less manicured and more natural grassland style," says Jack.
Wildflower meadow trial
As well as the reduced mowing of some areas, we are also going to trial a wildflower meadow. This is a more complex process than simply not mowing. Creating a self-sustaining wildflower meadow requires removing the existing grasses, lowering the fertility of the soil (which gives the hardier wildflowers an advantage), and sowing the soil with wildflower seeds, bulbs, and corms.
The soil fertility will be lowered by adding sawdust, which is high in carbon but low in nitrogen. The lowered fertility impedes vigorous weeds and gives the wildflowers a chance to toughen up and thrive. A wildflower meadow is typically mowed once a year when the flowers have set seed. Once established it should maintain itself with minimum intervention.
An initial wildflower meadow will be established, probably in our Trials Garden area. What we learn from that will be used to create a larger, permanent meadow somewhere more prominent.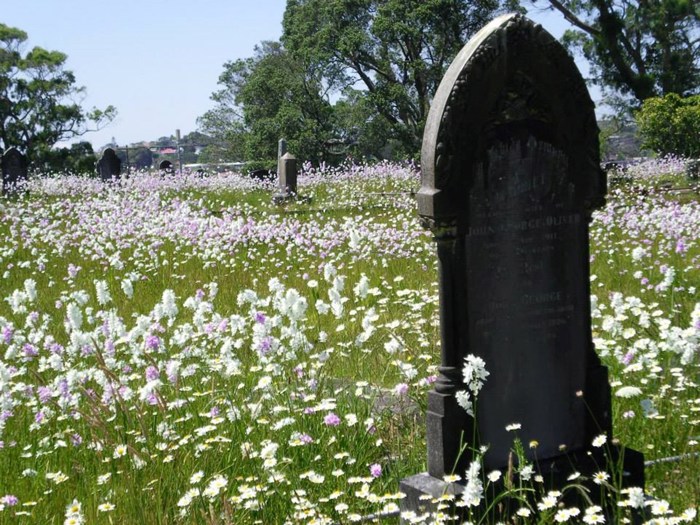 Wildflowers growing at Waikumete Cemetery in west Auckland. The flowers there have been described as "a wonderland of intermingled plants from three separate regions of the world".