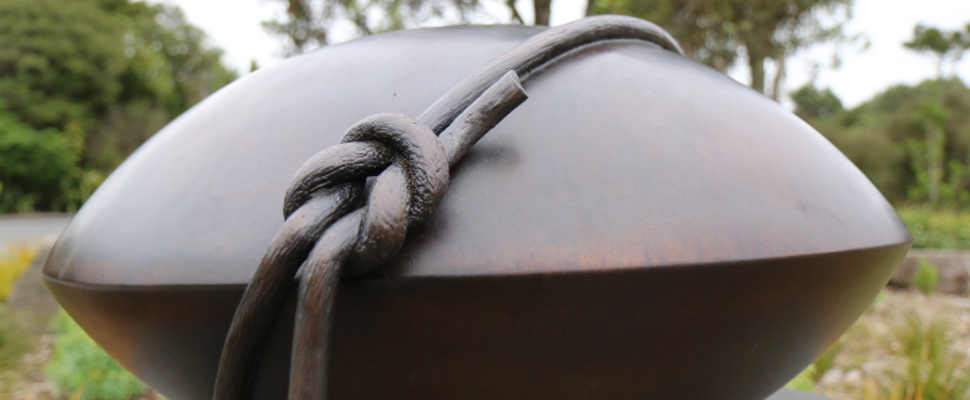 Marté Szirmay
Auckland artist Marté Szirmay has been named the curators' choice for the McConnell Family Supreme Award for Sculpture in the Gardens 2019/20.
The judges praised her work Contained and Protected for demonstrating superior skills of craftsmanship as its expressed her concerns for the fragility of nature and humanity's abuse of it.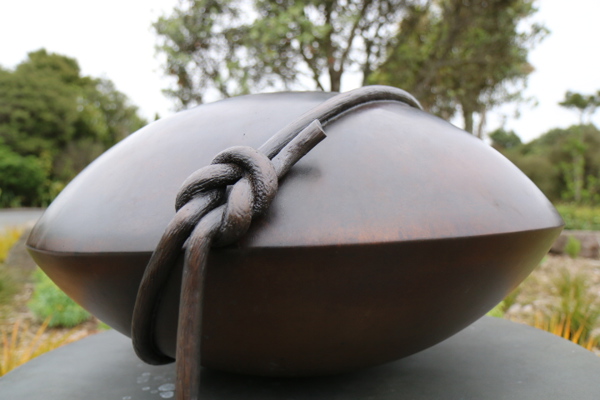 The judges said: "This beautiful disk, fastened to its base by a bronze cord, acts as a talisman of guardianship in the garden bed of critically endangered native plants. It is a superb and accomplished linking of form to site, evoking both the preciousness of our botanical heritage and the idea of keeping safe forever.
The work is placed near the entrance to the Threatened Native Plants garden and at the start of the new Pacific Pathway. It is one of 20 sculptures in the Gardens until 1 March as part of the Sculpture in the Gardens 2019/20.
Marté was awarded the prize, worth $10,000, at the opening of the event on Saturday 16 November 2019.
Artist Bio:
Born 1946 in Budapest, Marté arrived in Auckland aged 11 following the Hungarian Revolution. She attended Auckland Girls' Grammar and graduated with a Diploma in Fine Arts with First Class Honours from the Elam School of Fine Arts in 1968.
She was a Senior Scholar in that year, winning the Air New Zealand Sculpture Award at the age of 22. She went on to complete a Diploma in Teaching at the Auckland College of Education in 1969 and taught in Hamilton and Auckland secondary schools for over 40 years while continuing to exhibit her work nationally and internationally at prestigious sculpture events such as the Mildura Sculpture Triennial and Hansells Sculpture Award.
She was the youngest ever Frances Hodgkins Fellow at the University of Otago in 1971, and her output was so exceptional that she was offered the fellowship for a further year in 1972.
She received a Queen Elizabeth II Arts Council Award in 1982 allowing her to travel to the United States where she was a Visiting Artist in Illinois and New Jersey. She was selected as Woman of the Year by the American International Biographical Center in 1994.
Another bronze work of her's, Seek, 2015-6,  is in the Permanent Collection of the Auckland Botanic Gardens, purchased by the Friends of the Botanic Gardens.