Huakaiwaka visitor centre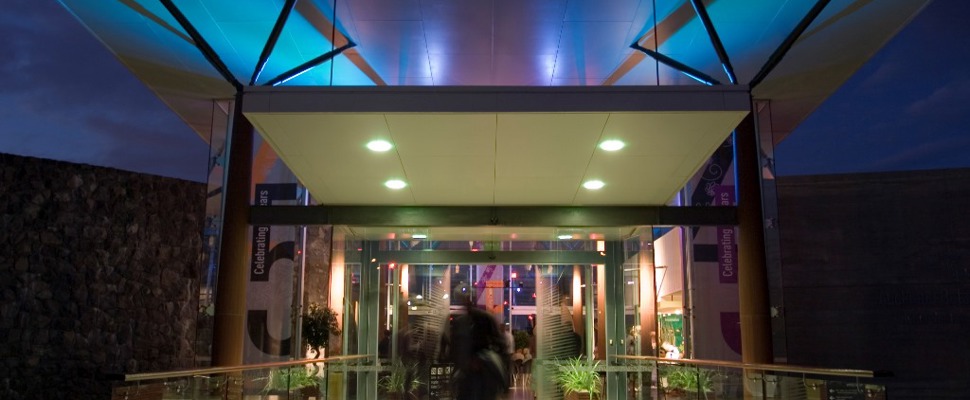 The Huakaiwaka atrium provides a stylish venue for unique events. It offers sweeping views over the Gardens and stunning indoor night-lighting. It is located at the Hill Road main entry to the Gardens and is serviced by a large car park with accessible parking available.
The atrium is available in the evening by special request (5pm - midnight).
Detail:
The presence of display or exhibition equipment and the nature of the use impacts the capacity of the venue (could be up to 200 people).  Use of the café increases the capacity of the space by another 100 people. Displays can only be moved under negotiation with the Visitor Services team.
Facilities:
Bathrooms – male, female, access toilet and changing room
Wi-Fi access
Large carpark
Café Miko
Our onsite caterers, Café Miko can take the stress out of organising your event and have available a range of catering options for you. 
Rates:
| | | |
| --- | --- | --- |
|   | Community rate* | Commercial rate* |
| 5pm to midnight for catered events | $710 | $920 |
*Community and Commercial rates
 commercial group is any group where the purpose is to operate a business and/or obtain profit or gain from its operations utilising the Botanic Gardens, its facilities, or resources.
A community group will be treated as a commercial entity if the organisation or any individual is making financial profit or gain from the group activities. This includes all activities where the total charges made to participants are above that, required, to cover the costs of providing that activity (unless the activity is disclosed and approved by the Auckland Council as a fundraising activity).
Community group includes all religious groups, clubs, associations, societies, educational institutes, and trusts.
A commercial social group is where no profit or gain is generated from the use of the Botanic Gardens, facilities, or resources. The Manager, Regional and Specialist Parks and/or the Council reserves the right to decide on the commercial or non-commercial status of the applicant.  
Bookings:
Contact the staff at the Huakaiwaka Visitor Centre 09 267 1457 to enquire about bookings. Note that due to the proximity of the buildings on site, staff manage all bookings to ensure style of use will not disaffect another building user.
Read our terms and conditions of hire.
Theming your event.
Alcova are wedding theming and event hire specialists. Available to style, theme & dress your event from seating and stretch tents to venue styling, lighting & entertainment. Alcova will cater to all your event needs, to make your event a success! Alcova have a range of packages to suit your event or can personalise a package to fit your needs. Contact the Alcova team today at events@alcova.co.nz.
Make a booking
To enquire about a booking contact our visitor services team:
Phone (09) 267 1457 or email botanic.gardens@aucklandcouncil.govt.nz