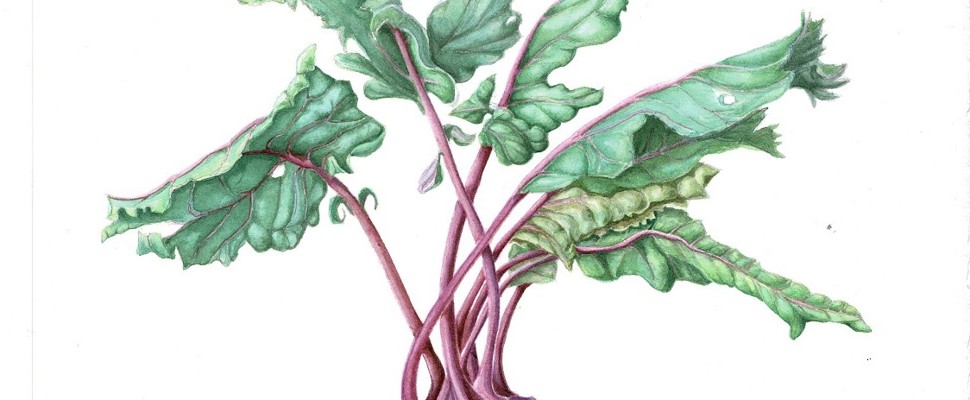 Jennifer Duval-Smith's botanical paintings of beets and radishes, cabbage leaves, and flowers are the product of close scrutiny and curiosity.
"I might sketch a plant four or five times, and each time I see something different, something new and that leads me to wonder and question. Why does this plant have this small pointy crown here, what is this insect doing? Why have I never noticed that the growing tips of these leaves are actually magenta? Plants that I have studied start to feel like old friends, and I see them everywhere, and start to make connections to their family members."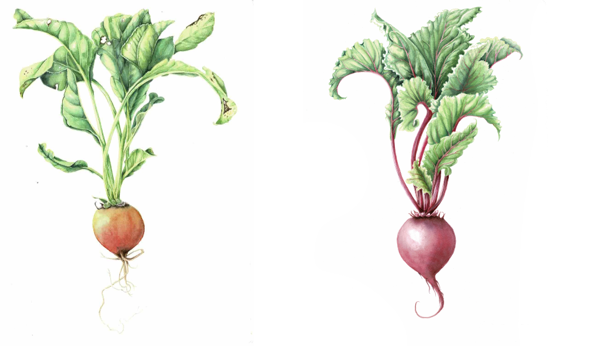 Two of Duval-Smith's paintings of beets (Beta vulgaris).
The works themselves are full of richness, as if the plants have recently been pulled from fertile, well-tended soil.
Jennifer will be painting at the Gardens in January as the 2021 Friends of the Gardens Artist-in-Residence. An exhibition of her work will be held in February in our Huakaiwaka Gallery.
During her residency, Jennifer will be focusing her eyes and paintbrushes on edible plants. Plants with cuisines and recipes to their names, plants that we regularly slice, peel, steam, boil, and roast, plants that are descendants of the world's oldest gardens, and plants that we depend upon but rarely stop to properly look at. Jennifer's work offers a chance to see these plants afresh and in all their form and beauty.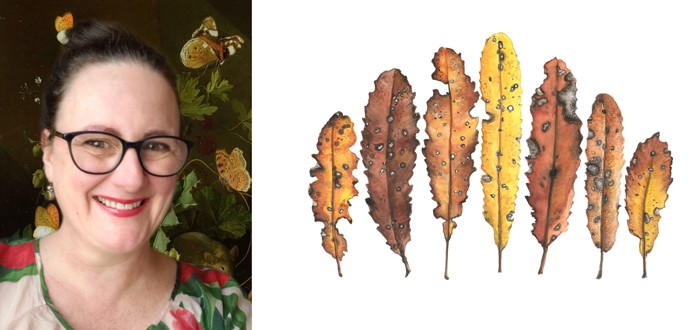 Jennifer Duval-Smith, and her 'Seven Sisters' painting of rewarewa (

Knightia excelsa

) leaves.
Though she comes from a line of both gardeners and painters, Jennifer came later to practising art.
"Like many people I was 'art shamed' at school and it took overcoming that block to have the confidence to express myself artistically. I am evidence that anybody can be an artist if they really want to".
As a result, she says her true calling is to free other people to express themselves artistically, however they want to do it.
Jennifer's South Island grandparents were anthroposophists and followed the teachings of Rudolph Steiner with his focus on paying close attention to the natural world. Her grandmother, Ruth Duval-Smith was known in the south for her landscape paintings. 
Always creating and making behind the scenes, Jennifer first overcame the fear of putting her work into the public domain by following artist Emma Rogan's 100 Days Project. Followers of the project agree to perform (and record) one simple creative exercise everyday for 100 days, a discipline which encourages experimentation and getting out of your own way.
Jennifer answered the call from the Auckland Botanical Gardens for artists to submit paintings of native New Zealand plants for the Botanical Art Worldwide (BAW) exhibition in 2018 with 'Seven Sisters' her painting of Rewarewa. BAW was Jennifer's first connection to the many supportive and like-minded artists of the Friends Art Group, including Lesley Alexander and Sandra Morris.  Since then, she has gone on to study overseas and to exhibit regularly.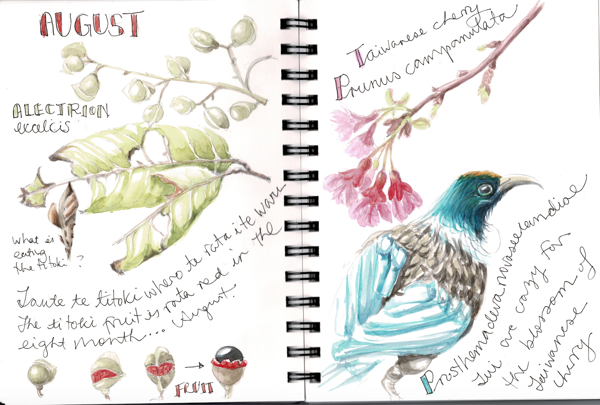 Pages from her nature journal.
The rekindling of Jennifer's art has been enriched by the ideas of the artist and educator John Muir Laws. She followed his advice and began filling the pages of a nature journal with sketches and drawings of what she saw around her. A process Muir Laws calls "active gawking". 
Anyone can develop their creativity, says Jennifer: "Muting your inner critic, being curious, noticing and learning. There is an entry point here for anyone of any age or ability. Got a pencil? Got paper? Got a hat? You're good to go! Talent schmalent! Start looking. It's so democratic!"