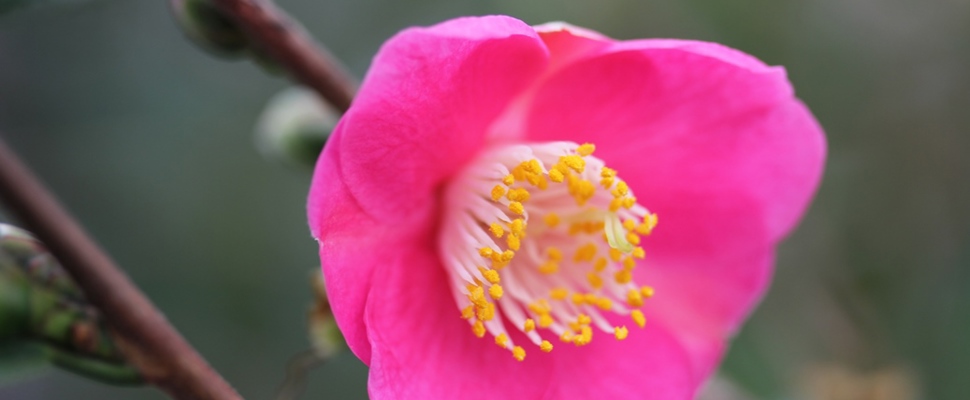 Last year the Gardens decided to begin a camellia breeding programme to address the global dilemma of camellia petal blight. We aimed to use known resistant parents and cross them with attractively flowered, compact habit camellias. From our crosses in 2014, we unfortunately had negative results. None of our crosses produced any seed which was disappointing. However, this provided an opportunity for us to analyse what went wrong and how we could address the issues we faced. We found that we were trying to hand pollinate flowers in the morning, during winter, when it was not only freezing for our fingers, but the parents didn't give up their pollen easily. We now know that we should collect pollen during the warmer part of the day and could also store some in silica gel for a few weeks to help ensure there is an overlap in flowering times between the recipient and donor parents.
Bec Stanley and I also did a survey in April 2015 of the camellias that we had hand pollinated the year before to see if they had naturally produced seed. To our surprise we found 6 out of 7 of the cultivars we used had not naturally produced any seed. The one that we found did produce natural seed was Camellia japonica 'San Dimas'. This indicates that they are not good recipient parents. This became one way we determined if we would use a camellia in a cross. If it could not naturally set seed easily then it would significantly reduce our chances at producing successful crosses.
Camellia transnokoensis is one of the camellia petal blight resistant parents identified by research done at Massey University, which we will harvest pollen from to pollinate other beautiful camellias. 
We were excited by the news that the Auckland Branch of the Camellia Society and the Friends of the Auckland Botanic Gardens had established a fund for Camellia research and development entitled the Neville Haydon Award. To kick start the breeding project supported by this award we are working with a University of Auckland student Jess Ryder, to help us increase the number of hand pollinated crosses we can achieve this flowering season. With the help of Neville Haydon and Jack Hobbs, we have sourced (with great difficulty) a number of camellias that the student will pollinate in the nursery. We think doing the crosses in the glasshouse will increase the chance of successful pollination with slightly warmer temperatures and plants releasing their pollen more easily. We hope to do approximately 55 crosses this winter with the help of Jess who will dedicate several hours a week over three months.
In our search for camellias in local nurseries, Neville found a hidden gem in The Warehouse, Camellia transnokoensis x lutchuensis 'Transluscent'. This camellia hybrid is named after its two petal blight resistant parents. We think this Camellia holds some promise in our crosses and we look forward to seeing what seed it produces.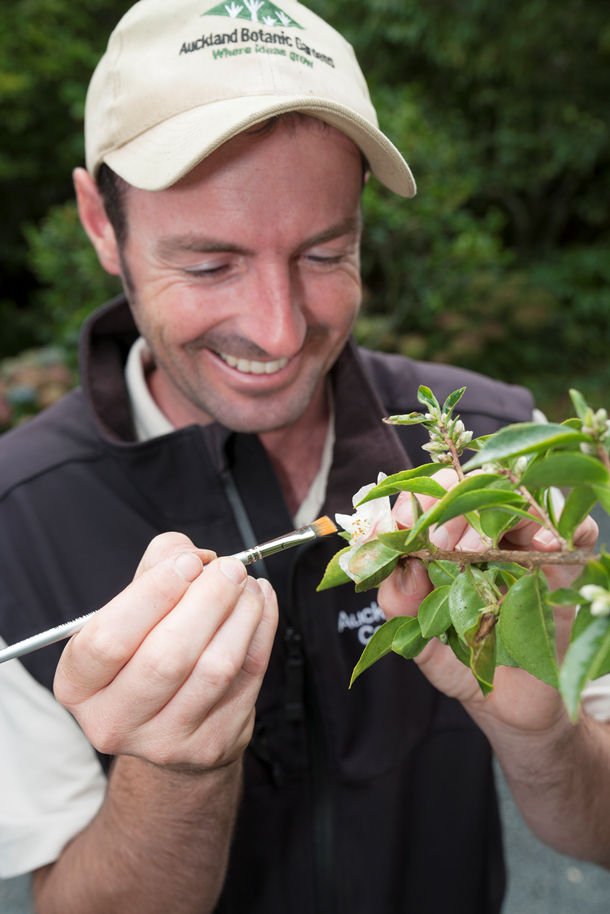 Camellia curator Mark pollinates a Camellia flower.