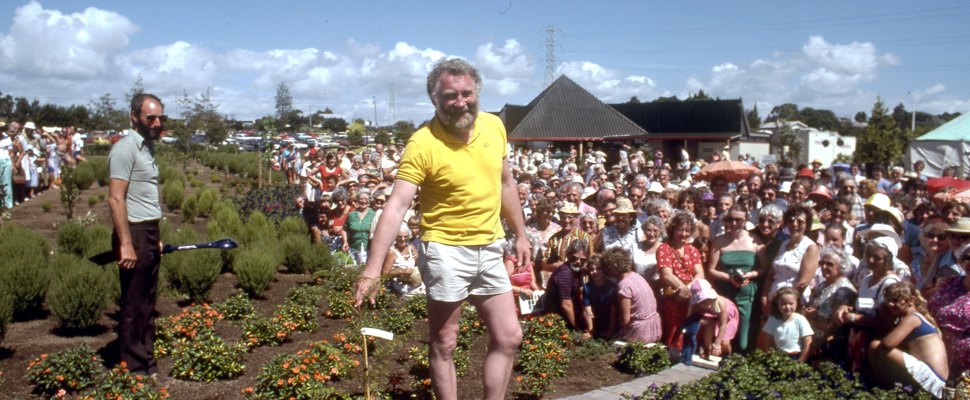 Despite being a young garden by both national and international standards, the quality and popularity of the Gardens is reflected in industry awards and rapid growth in visitor numbers – now attracting 1 million visits per year.
The timeline below is a snapshot of the Gardens growth over the years.
1967 In May 1967 the Auckland Regional Authority (ARA) purchased 42 hectares (104 acres) of the Nathan Estate at a cost of $200,000.
1973 On 19 February 1973 ARA Chairman Mr Tom Pearce turned the first sod at the new site.
1982 In 1982 the ARA purchased a further 20.5 hectares from Manukau City Council (MCC) at a cost of $725,000 and accepted from MCC a gift of a further 2.2 hectares to provide a northern frontage off Orams Road.
On 23 February 1982 the Auckland Regional Botanic Gardens was officially opened to the public by the Governor General Sir David Beattie. Visitor numbers in the first year were 98,000.
In February 1982 the original Information Centre (later renamed Visitor Centre) was opened.
1983 Friends of the Auckland Botanic Gardens established.
1992 Other public buildings followed including the Friends Horticultural Reference Library, which was constructed in 1992 with funds raised by the Friends.
1997 A working party was established to produce a Development Plan.
1998 In February 1998 the proposals contained in the Development Plan were presented to the Parks Committee.
2001 In May 2001 the Parks Committee adopted the current Auckland Botanic Gardens Management Plan.
2004 The New Zealand Threatened Native Plants garden won an Award of Excellence from the International Federation of Landscape Architects.
2005 The recommendations contained in the Management Plan were implemented, with the opening of the Potter Children's Garden in March and the new Visitor Centre Huakaiwaka in April.
The Visitor Centre Huakaiwaka receives two awards: the Creative Places Award for Best Built Environment, and the Commercial and Industrial Building category at the NZ Institute of Architects Resene Local Awards for Architecture.
2007 The Gardens celebrated its 25th Birthday in February 2007.
2010 The Gardens Master Plan is formally adopted by ARC Parks and Heritage Committee in February.
Annual visitation reaches 969,000 – around double the 485,000 visits recorded in 2004/5.
The Potter Children's Garden is awarded the New Zealand Recreation Association Outstanding Park Award.
2015 The Neville Haydon Pavilion was revamped and named to honour Neville Haydon's contribution to the Camellia Garden.
2018 New overflow carpark completed increasing the number of carparks at the Garden by 177.
2019 Stage 1 of Pacific Pathway completed connecting visitors with plant collections.
2021 The Gardens win the Healthy Park of the Year award and achieve CarbonZero accreditation.